ശ്രീ ശത്രുഘ്‌ന ക്ഷേത്രം പുതുക്കിപ്പണിയുന്നു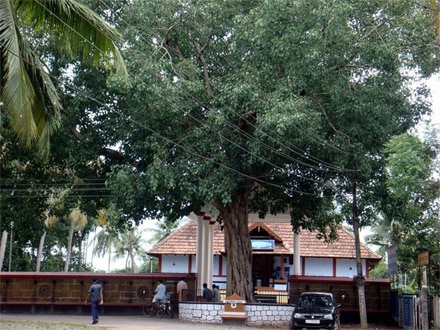 തൃശ്ശൂര്‍: ഇരിഞ്ഞാലകുട അരിപ്പാലം പായമ്മല്‍ ശ്രീ ശത്രുഘ്‌ന ക്ഷേത്രം (നാലമ്പലം തീര്‍ത്ഥാടന ക്ഷേത്രം) പുതുക്കി പണിയുന്നു ശ്രീകോവിലും കൊടിമരവും ഉള്‍പ്പെടെ ഉള്ള പണികളാണ് നടക്കുന്നത്. രണ്ടു കോടി രൂപയുടെ പദ്ധതിയാണിത്.
Nalambalam Yatra
Nalambalam Yatra begins from the Rama temple in Triprayar and ends up at Shatrughna Temple in Payyammal. It is customary to visit the four temples in the order Rama, Bharata, Lakshmana and Shatrughna respectively. Triprayar Temple houses a 6 ft tall idol of the Lord, holding Shankha, Sudarsanachakra, Stick and Garland, in a very ferocious form facing east. He is seen in standing posture. Vedi Vazhipadu is the main offering, but that does not match with the Lord. There are many lunatic beliefs that Hanuman burnt many fire crackers on the ear of the Lord, but as Hanuman can't do any harm to Rama, that is not good to believe it. The temple is under the control of Cochin Devaswom Board, an autonomous body. Koodalmanikyam Temple houses another 6 ft tall idol of the Lord, seen in ferocious form, facing east, in standing posture holding the same things as seen at Triprayar. This is one of the rare temples where only one idol is there. The temple has a private devaswom. Moozhikkulam is the only temple in Ernakulam District, and the only one among the four temples, which belong to the 108 Divya Desams, praised by Alwars. The temple houses another 6 ft tall idol, similar to the idol at Guruvayoor, holding Shankha, Sudarsanachakra, Mace and Lotus, in standing posture, facing east. Payammal is the smallest temple, having the smallest idol, also similar to that at Guruvayoor. This is the way to praise them.



First, we have to worship Hanuman.
Then worship Rama at Triprayar during his nirmalyadarsanam.
Then worship Bharata at Koodalmanikyam and Lakshmana at Moozhikkulam during their Usha Poojas.
Then worship Shatrughna at Payammal during his Ucha Pooja.



View Larger Map
Temples linked to the Yatra
---
Triprayar Sreerama Temple,Tripayar

Triprayar is in the middle of Guruvayoor – Kodungallore route . Those who want to come via Trichur should reach Cherpu and proceed went wards to reach the east nada of the temple . Here is the famous Rama temple. This is the first temple to visit as part of Nalambalam Pilgrimage. Darshan is possible from 3am – 12.30pm and 5pm to 7.30pm . Meenuttu and Vedi are important Vazipadu.

Koodalmanikam Temple, Irinjalakuda

This is a unique Vaishnava Temple and the second temple to visit. From Triprayar proceed in the Kodungallore route and divert from Edamuttam or Moonnupeedika . Irinjalakuda is about 20kms away from Triprayar . Darshan is possible from 3am – 12 noon , and 5pm to 8pm . Important Vazhipatus are Thamaramala , Brinjal Nivedyam , Vedi , Gheelamp , Meeunttu.

Moozhikkulam Sree Lakshmanapermal Temple

Moozhikkulam Temple is the third temple to visit and is dedicated to Lakshmana. This is in Ernakulam District near to famous Annamanada Mahadeva temple proceed alongs Vellankallore in Irinjalakuda route to Kodungallore and reach Mala , Annamanada and then Moozhikkulam . Darshan is possible from 4 to 12.30 and 5 to 8.

Payammal Temple

This is the last temple to visit . Reach Vellangallore and proceed went wards 4 kms to reach Aripalam . Take right turn and reach the temple . Important Vazhipadu is Sudarshanan dedication . Darshan time is as given along temples.

---
__._,_.___
KERALITES - A moderated eGroup exclusively for Keralites...
To subscribe send a mail to Keralites-subscribe@yahoogroups.com.
Send your posts to Keralites@yahoogroups.com.
Send your suggestions to Keralites-owner@yahoogroups.com.

To unsubscribe send a mail to Keralites-unsubscribe@yahoogroups.com.

Homepage: www.keralites.net

.
__,_._,___