Vimla Kaul The 81-year-old Indian teacher still transforming lives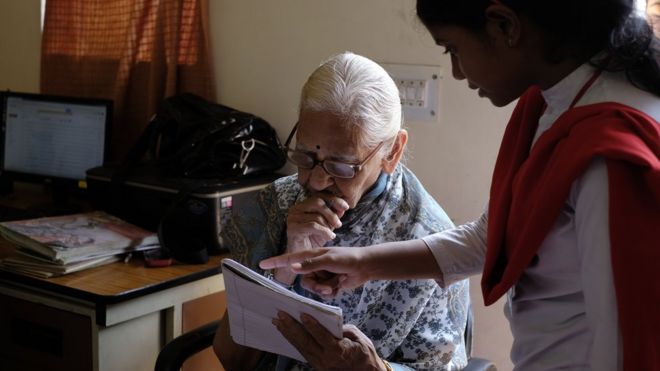 Vimla Kaul
has not stopped working since she retired as a government school teacher 20 years ago.
The 81-year-old educates under-privileged children in India's capital Delhi.
Twelve of them, 11 boys and one girl, are sitting on the floor of a tiny room, where colourful posters bravely attempt to cover the stains and patches on the walls. They immediately begin chanting the English alphabet - "A for Apricot, B for Blackberry" - fruits that many of them are unlikely to have seen, let alone eaten.

All the children are from around the area - their parents mostly work as maids or drivers, servicing the middle class housing colony across the road.
Guldasta's students are taught English, science, maths and environment. It also owns one computer and offers extra-curricular activities like yoga, dance and drill.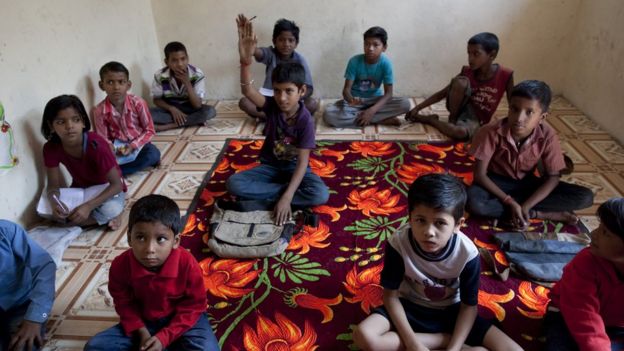 "My husband and I had both just retired. We decided to do something charitable, but were not quite sure what."
That question was answered during a visit to the village of Madanpur Khadar, an hour away from Delhi.
A school is born

As the couple sat at the village centre with some elders, discussing their problems, they were continually distracted by the half-naked, boisterous children running around.
"We had brought biscuits for them as part of a Rotary Club drive. But one woman told me, 'giving them to eat is all very well, but what you should do is teach them how to get their own food.' That stuck with me."
And that was when the idea for a school was born.
So she moved to a park inside the complex, but was forced out by neighbours who complained that the children were too noisy. She tried talking to them but finally moved to the municipal park after one woman went on a hunger strike.

They operated out of there for nearly 10 years, until an NGO discovered and adopted the school. This enabled them to finally rent the building to house it.
"There is an inherent selfishness among our class that don't want to see these people rise. Where will their maids come from otherwise?" she says.
The stories of many of her students, she says, are heart-rending.
"I had one very bright young student who was pulled out because her mother wanted her to help clean houses to make more money. That was the end of her education," she says. Others come without food because their parents don't have the time, or can't afford it.

But others have happier stories.
Two of her students are teaching at Guldasta now, one of them with a computer degree. Another has found work as a mechanic. Yet another was working at a Chinese restaurant Mrs Kaul visited, where he proudly insisted that she would not pay for her meal that day.
"If I can lift even one child out of their circumstances, that's enough for me. But mostly, I want to give them a childhood. Some happy memories that they can look back on later in life."
More photos and full article in the link below 
__._,_.___
---
Posted by: Ravi Narasimhan <ravi.narasimhan.in@gmail.com>
---
---
Have you tried the highest rated email app?
With 4.5 stars in iTunes, the Yahoo Mail app is the highest rated email app on the market. What are you waiting for? Now you can access all your inboxes (Gmail, Outlook, AOL and more) in one place. Never delete an email again with 1000GB of free cloud storage.
---
KERALITES - A moderated eGroup exclusively for Keralites...
To subscribe send a mail to Keralites-subscribe@yahoogroups.com.
Send your posts to Keralites@yahoogroups.com.
Send your suggestions to Keralites-owner@yahoogroups.com.
To unsubscribe send a mail to Keralites-unsubscribe@yahoogroups.com.
Homepage:
http://www.keralites.net
.
__,_._,___