Gurgaon restaurant makes world's 'longest' vada pav, creates a world record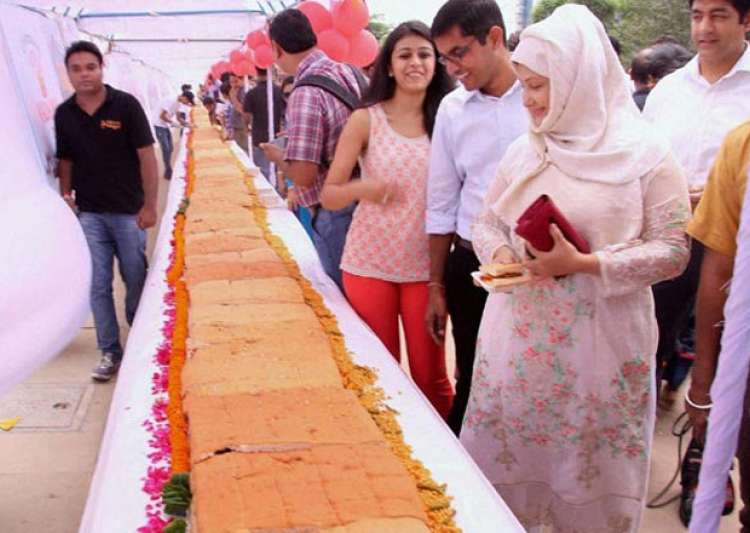 On the occasion of World Vada Pav Day, a restaurant in Gurgaon created a world record of making world's 'longest' vada pav. This vada pav was 145 ft long and took precisely three hours to make.
A team of 25 people used 200 kg of potatoes and bread each to make this vada pav.
The event of creating this long vada pav was held at Nukkadwala restaurant in Sec-49.
The preparations had been going on for three days. The final Vada Pao was made within a record time of three hours. Around 3000 people attended the event and eventually feasted on the Vada Pao.
The spokesperson said their feat had been taken into consideration by officials of the Limca Book of Records for its 2018 issue.
Vada Pao, often called the Indian burger, is hugely popular in Maharashtra. The longest 'Indian burger' was displayed at Vatika Business Park at Sector 49 here on Sohna Road.
Gaurav Bhalla, Managing Director, Nukkadwala, said: "I think we take our street food like Vada Pav for granted. We wanted people to know about the World Vada Pav Day, so we decided to celebrate it in our very own unique Nukkadwala style.
http://www.indiatvnews.com/buzz/mouthful-worlds-longest-vada-pav-gurgaon-345095 

__._,_.___
---
Posted by: Ravi Narasimhan <ravi.narasimhan.in@gmail.com>
---
---
Have you tried the highest rated email app?
With 4.5 stars in iTunes, the Yahoo Mail app is the highest rated email app on the market. What are you waiting for? Now you can access all your inboxes (Gmail, Outlook, AOL and more) in one place. Never delete an email again with 1000GB of free cloud storage.
---
KERALITES - A moderated eGroup exclusively for Keralites...
To subscribe send a mail to Keralites-subscribe@yahoogroups.com.
Send your posts to Keralites@yahoogroups.com.
Send your suggestions to Keralites-owner@yahoogroups.com.
To unsubscribe send a mail to Keralites-unsubscribe@yahoogroups.com.
Homepage:
http://www.keralites.net
.
__,_._,___