The inspiring story of how a Kerala village 
Marottichal
used chess to defeat alcohol addiction
The inspiring story of how a Kerala village used chess to defeat alcohol addiction :- This is a chess literate village that even holds a record for the game!
Ask anyone in Marottichal for C Unnikrishnan, and you will see them scrunch up their forehead, wondering if such a person even lives in this remote village in Kerala's Thrissur district.
Tell them "Chess Unnikrishnan", however, and they will cheerfully point to a small hotel run by the man himself, who is a pioneer in giving Marottichal its identity- the chess literate village in Kerala.
For the people of the village, 59-year-old Unnikrishnan is "maaman" (Uncle in Malayalam), whom they can approach any time to fulfill their hunger for food and for chess.
For as long as the villagers can remember, Maaman was the first person in the village to have learnt chess. However, over the years, the game became a means for the villagers to get over a crisis that plagued them - alcohol addiction.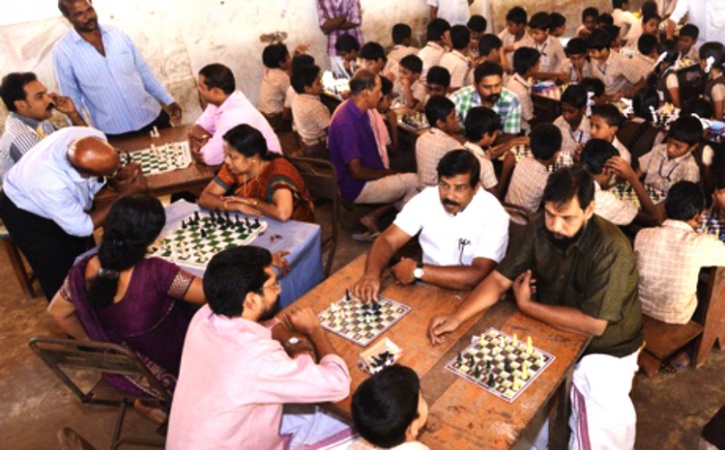 The beginning
Unnikrishnan was only 16 years old when he heard of Bobby Fischer, the American chess grandmaster, and was fascinated by the player. He then got hooked to the game. He traveled to a nearby village to learn chaturanga and later chess.
Why chess? Maaman has a practical answer to this query.
"I have always been interested in sports during my school days. At the time, Marottichal was a remote village with very few people living here. There was hardly any space for the kids to play, as there were rubber plantations all around. To play chess, one does not need a playground or for that matter, a huge team. Wherever you place the chess board, that becomes your play ground," Unnikrishnan says.
"We then started a Madhya Nirodhana Samiti to eradicate illicit liquor brewing, that was crushing many families.The agitation was a success only because the women of the village were active participants. The women would secretly tell us about their men indulging in the trade and we would call the excise officials on them," Unnikrishnan says.
It was during the long hours that they spent waiting for the excise department officials to arrive that Unnikrishnan introduced chess to the others in his group. Once the "addicts" were taught the game, they found a new high.
"Chess is nothing short of an addiction, but definitely a healthy one. Once you start playing the game, you can never get over it. The kind of concentration the game demands made sure that chess was the only thing on their (addicts') minds," 53-year-old Saseendran, a villager says.
__._,_.___
---
Posted by: Ravi Narasimhan <ravi.narasimhan.in@gmail.com>
---
---
Have you tried the highest rated email app?
With 4.5 stars in iTunes, the Yahoo Mail app is the highest rated email app on the market. What are you waiting for? Now you can access all your inboxes (Gmail, Outlook, AOL and more) in one place. Never delete an email again with 1000GB of free cloud storage.
---
KERALITES - A moderated eGroup exclusively for Keralites...
To subscribe send a mail to Keralites-subscribe@yahoogroups.com.
Send your posts to Keralites@yahoogroups.com.
Send your suggestions to Keralites-owner@yahoogroups.com.
To unsubscribe send a mail to Keralites-unsubscribe@yahoogroups.com.
Homepage:
http://www.keralites.net
.
__,_._,___