IIT + Art of Living (AOL ) - Pond cleaning initiatives set to produce good results in Chennai :-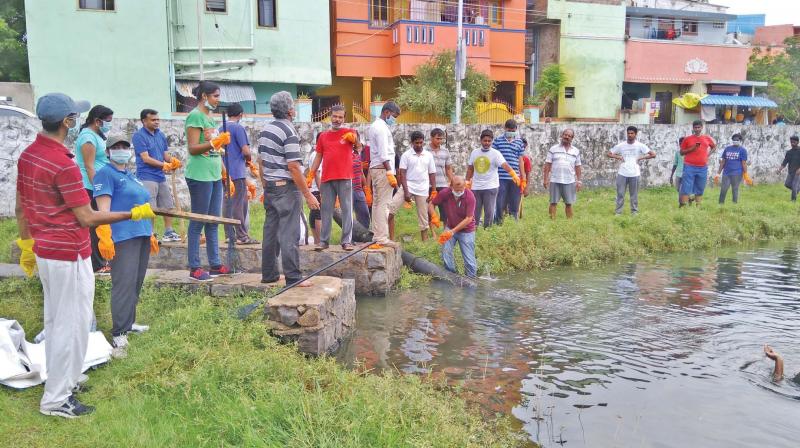 Students from IIT Madras join hands with Art of Living volunteers to clean a pond in the city.

The plastic waste from the pond was segregated and will be shredded and used for laying roads.
Chennai: Over the past five months, an arm of the Art of Living has been working quietly on reviving 10 ponds along the OMR that come under Zone 15 (Sholinganallur) of the Corporation of Chennai.  This includes 4 ponds in Semmencherry, 3 in Thoraipakkam and 2 each in Karapakkam and Sholinganallur wards. 
Volunteers turned up in good strength for the weekly pond cleaning drive, working for more than three hours to remove 1 tonne of solid waste from the Karapakkam Karyam pond along the OMR.  Students from IIT Madras joined volunteers from Art of Living on the drive. with a few from Lioness Club also chipping in. 
The plastic waste from the pond was segregated and will be shredded and used for laying roads.  The other wastes included bottles, clothes, paper products, etc.
The programme had started with an SOS from the Corporation Zone 197 when the AoL arrested the death of fishes in Sengeniamman temple in Nilankarai through enzyme treatment.
The programme to clean several water bodies in the City is a combination of pond cleaning, tree plantation and awareness creation.  The programme beings with a recce of the pond and the safety of volunteers is ensured before taking up cleaning, besides providing tools and orientating the volunteers with specific methods and techniques for efficient working.  Local corporation offices also support the programme.
Chennai is a city of extreme water related calamities year after year with deadly floods during the rainy season and severe droughts during summer.  Rampant loss of waterbodies to urbanisation, unauthorised encroachments, unchecked pollution and poor maintenance of ponds and lakes have caused this terrible impact on nature and the city.
The AoL, with a proven model to rejuvenate water bodies across India, has come up with this sustained initiative.  After consultations with civic agencies, AoL got approval from Corporation of Chennai to revive its water bodies across the city.
The holistic programme is expected to produce sustained results in 423 waterbodies in the city.
The scope of the cleaning and restoration programme includes — Enzyme treatment of pond water to clean the dirty water and remove the algae; desilting the pond and strengthening its bund to increase storage; removing solid waste and weeds from the pond to increase oxygen content and remove toxins; planning trees along the bund to increase green cover and improve the biodiversity and extensive awareness campaigns for active involvement of local community and sustenance of the programme.
http://www.deccanchronicle.com/nation/in-other-news/171017/pond-cleaning-initiatives-set-to-produce-good-results-in-chennai.html
(For more details and for volunterring )
visit www.nammaoorunammakulam.org
www.facebook.com/nammaoorunammakulam and 
www.twitter.com/NammaOoruKulam. 
Contact Srinivasan @ 9444111587)

__._,_.___
View attachments on the web
---
Posted by: Ravi Narasimhan <ravi.narasimhan.in@gmail.com>
---
---
Check out the automatic photo album with
1 photo(s)
from this topic.
---
Have you tried the highest rated email app?
With 4.5 stars in iTunes, the Yahoo Mail app is the highest rated email app on the market. What are you waiting for? Now you can access all your inboxes (Gmail, Outlook, AOL and more) in one place. Never delete an email again with 1000GB of free cloud storage.
---
KERALITES - A moderated eGroup exclusively for Keralites...
To subscribe send a mail to Keralites-subscribe@yahoogroups.com.
Send your posts to Keralites@yahoogroups.com.
Send your suggestions to Keralites-owner@yahoogroups.com.
To unsubscribe send a mail to Keralites-unsubscribe@yahoogroups.com.
Homepage:
http://www.keralites.net
.
__,_._,___