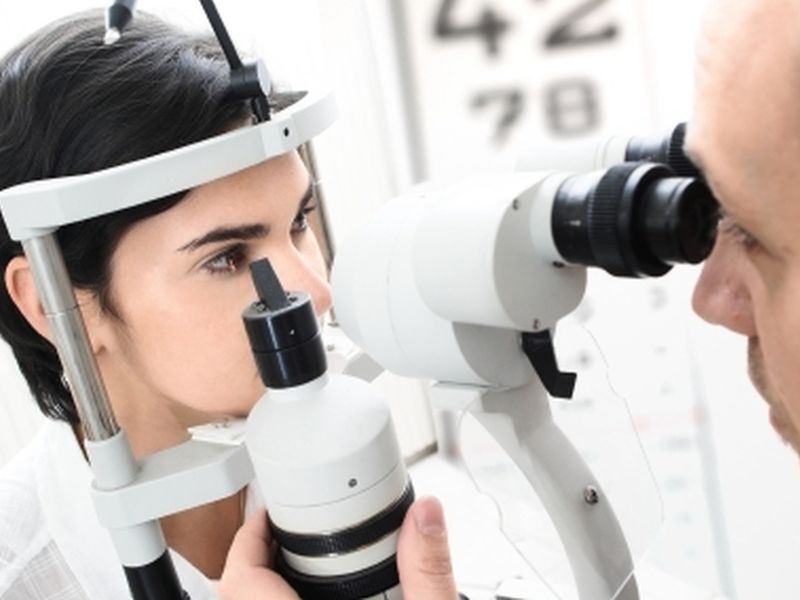 Diabetic eye disease is the leading cause of blindness among people aged 40 to 60, cautioned Dr. Malav Joshi, an ophthalmologist at the Krieger Eye Institute in Baltimore.THURSDAY, March 8, 2018 (HealthDay News) -- A yearly eye exam is a key part of diabetes treatment, experts say.

And the longer people have diabetes, the greater the odds of developing vision problems.
However, "diabetic eye disease is preventable, and you can take steps to slow it down or even reverse it by taking care of your diabetes, your blood pressureand your cholesterol," Joshi said in a LifeBridge Health news release.
A dilated eye exam can help doctors spot problems early on -- before vision loss. This is particularly important since eye damage related to diabetes may not cause symptoms right away.
Diabetic retinopathy: In the early states, this causes the blood vessels to weaken, leak or bleed into the retina. Later, bleeding blood vessels can cause serious vision problems.
Diabetic macular edema: This occurs when fluid or cholesterol leaks out of the blood vessels, causing the part of the retina essential for fine vision to swell.
Glaucoma: This affects the optic nerve and can lead to permanent blindness without early detection and treatment.
During a dilated eye exam, doctors can look at the inside of the eye for signs of trouble, such as abnormal blood vessels, retinal swelling and nerve tissue damage. "It also helps us see your cataracts a little better," Joshi said.
Other steps you can take to protect your vision if you have diabetes:
-- Mary Elizabeth Dallas

Copyright © 2018 HealthDay. All rights reserved.
Whatsapp Group+91 98450 81888
HOME REMEDY IN INDIA

MANGALORE.INDIA
Think Good Do Good
Pl send name and place for joining whatsapp Group
__._,_.___
---
Posted by: =?UTF-8?Q?=E2=99=A3_=E2=99=A3_=E2=99=A3M=2ED=2E_?= =?UTF-8?Q?HEGDE=E2=99=A3_=E2=99=A3_=E2=99=A3?= <hegde_csl@yahoo.co.in>
---
---
Have you tried the highest rated email app?
With 4.5 stars in iTunes, the Yahoo Mail app is the highest rated email app on the market. What are you waiting for? Now you can access all your inboxes (Gmail, Outlook, AOL and more) in one place. Never delete an email again with 1000GB of free cloud storage.
---
KERALITES - A moderated eGroup exclusively for Keralites...
To subscribe send a mail to Keralites-subscribe@yahoogroups.com.
Send your posts to Keralites@yahoogroups.com.
Send your suggestions to Keralites-owner@yahoogroups.com.
To unsubscribe send a mail to Keralites-unsubscribe@yahoogroups.com.
Homepage:
http://www.keralites.net
.
__,_._,___