Raja Nayak From extreme poverty to building a company worth Rs 60 crore, Raja Nayak's incredible rags-to-riches story is an inspiration. :-
At 17, Raja Nayak ran away from home.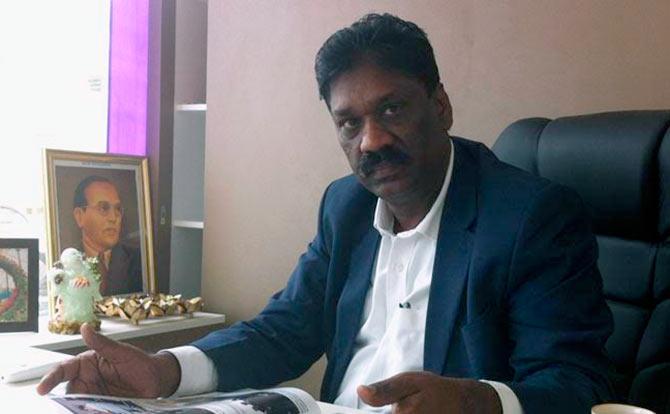 Like millions before him, he wanted to escape the punishing life that poverty inflicts on its victims.
"I knew I had to earn money. I wanted to earn big money. That was my only focus then," Raja Nayak, 54, tells me as we settle down in his plush new office in Bengaluru for the interview.
"I had realised as a young boy that it was very hard for my parents to send me and my four siblings to school. My father did not have a steady income and my mother had little to make ends meet often pawning whatever little valuables she had," he says.
Today, Raja has a total turnover of Rs 60 crore from his various enterprises that include MCS Logistics, a company he established in 1998 in international shipping and logistics, Akshay Enterprises that's into corrugated packaging, Jala Beverages that manufactures packaged drinking water, Purple Haze that is in the wellness space with three beauty salon-and-spa centres in Bengaluru.
Nutri Planet (with three other directors and partners) that is working with Central Food Technological Research Institute (CFTRI) to bring products like energy bars and oil made out of Chia rice.
Besides these, he also runs schools and a college under the banner of Kalaniketan Educational Society for the underprivileged and disadvantaged sections of society.
Raja is also the President of the Karnataka chapter of Dalit Indian Chamber of Commerce and Industries (DICCI), where he says, they are inspiring the disadvantaged sections of society to dream big.
Between them, the two friends collected Rs 10,000 and set out for Tiruppur in Tamil Nadu, a major garment and textile hub.
"My mother would sometimes hide some money in kitchen containers, and because I was her favourite she gave it to me."
In Tiruppur, they bought export reject surplus shirts for Rs 50 each. They bundled them in a state road transport bus and came back to Bangalore, setting up 'shop' on the footpath outside the Bosch office.
"We had seen hawkers outside their gate before and thought it would be a good place to start, more so because it was near our neighbourhood," says Raja.
It was a perfect plan. Most of the shirts that they had bought were either shades of blue or white.
The male employees of Bosch have a blue shirt as their uniform.

During the hour-long lunch break, Raja and his friend had sold all the shirts at Rs 100 each, making a tidy profit of Rs 5000.
"I had never seen so much money in my life. I was ecstatic," Raja tells me, reliving that fantastic moment from his past.
They would buy cotton hosiery items and inner wear in kilos and set up stalls at large exhibitions employing a few boys to manage them. Whatever was left over, they would hawk them on footpaths.

The other driving force behind Raja's multiple business ventures was his life partner, his wife Anita. "I kept diversifying because I knew there was someone to look after these businesses," he says.
Anita came to Raja's school looking for a job when she was around 16.
She is also a school dropout from a poor Dalit home. Her father was an autorickshaw driver.

Anita started helping around the school and later learned the administrative ropes.
"We actually eloped and got married in a temple. The only witness was one of the school staff," reveals Raja, adding, that till today they do not have a formal marriage certificate.

In the same lane where Raja and his family lived in Bengaluru in a house smaller than his new office where we are meeting (it is the latest Purple Haze outlet which was inaugurated earlier in the morning), Raja went on to build a four-storey building that houses his office on the top floor and his school below.
The school was started because not only was he unable to complete his education, but his sister was also denied admission.
"When I had some money, I rented a small house, hired a few teachers and started a nursery school for underprivileged children," he informs me.
Clearly, the soft-spoken, suave entrepreneur I am talking to was an angry young man once.
There's also this prejudice in society about not eating or drinking water from a low caste person.
So Raja decided to venture into the food business.
Though the eatery he started has shut down, the bottled drinking water venture, Jala Beverages, is doing well in the market.
full article in the link below
http://www.rediff.com/getahead/report/achiever-how-a-school-dropout-built-a-rs-60-crore-business/20160203.htm
__._,_.___
---
Posted by: Ravi Narasimhan <ravi.narasimhan.in@gmail.com>
---
---
Have you tried the highest rated email app?
With 4.5 stars in iTunes, the Yahoo Mail app is the highest rated email app on the market. What are you waiting for? Now you can access all your inboxes (Gmail, Outlook, AOL and more) in one place. Never delete an email again with 1000GB of free cloud storage.
---
KERALITES - A moderated eGroup exclusively for Keralites...
To subscribe send a mail to Keralites-subscribe@yahoogroups.com.
Send your posts to Keralites@yahoogroups.com.
Send your suggestions to Keralites-owner@yahoogroups.com.
To unsubscribe send a mail to Keralites-unsubscribe@yahoogroups.com.
Homepage:
http://www.keralites.net
.
__,_._,___