GANPATI BAPPA MORIYA

"||| Vakratunda Mahakaya Surya Koti Samaprabha
Nirbighnam kurume deva sarbakaryeshu sarbada |||"
English Translation:
"Oh, Lord Ganesh, with curved trunk and massive body,

the one whose splendor is equal to millions of suns,
please bless me so that I do not face any obstacles in my endeavors."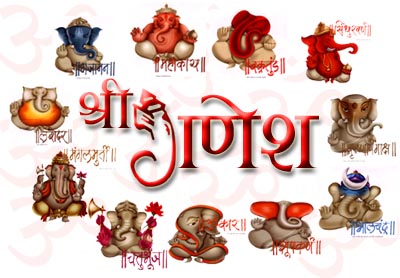 Lord Shree Ganesh
is god of knowledge and the remover of obstacles.
Lord Ganesha
is worshipped,
or at least remembered,
in the beginning of any auspicious performance
for blessings and auspiciousness.
He has four hands, elephant's head and a big belly.

His vehicle is a tiny mouse.
In his hands he carries a rope
(to carry devotees to the truth),
an axe (to cut devotees' attachments),
and a sweet dessert ball "Laddoo"
(to reward devotees for spiritual activity).
His fourth hand's palm is always extended to bless people.
A unique combination of his elephant like head
and a quick moving tiny mouse vehicle represents
tremendous
wisdom, intelligence, and presence of mind.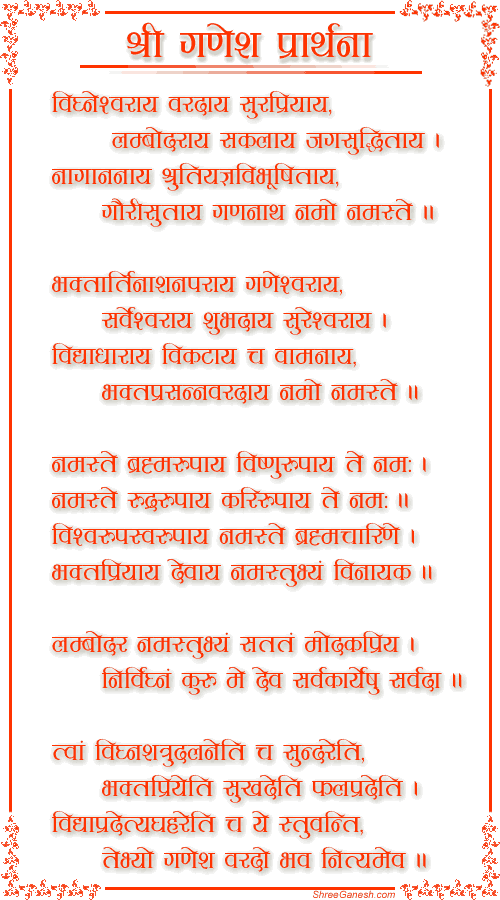 32 Forms of God Ganesh



The "Valiant Warrior," Vira Ganapati, assumes a commanding pose. His 16 arms bristle with weapons, symbols of mind powers: a goad, discus, bow, arrow, sword, shield, spear, mace, a battleaxe, a trident and more.

---

---

---

Golden-yellow Siddhi Ganapati, "the Accomplished," is the epitome of achievement and self-mastery. He sits comfortably holding a bouquet of flowers, an axe, mango, sugar cane and, in His trunk, a tasty sesame sweet.

---

---

---

---

---

---

Accompanied by one of His shaktis, "the Great," Maha Ganapati, is red-complexioned and three-eyed. He holds His tusk, a pomegranate, blue lily, sugar-cane bow, discus, noose, lotus, paddy sprig, mace and a pot of gems.

---

---

---

Seated with one of His shaktis on His left knee, Urdhva Ganapati is "the Elevated" Lord of golden hue. In His six hands He holds a sprig of paddy, a lotus, the sugar cane bow, an arrow, His ivory tusk and a blue water lily.

---

---

Varada Ganapati, "the Boon-Giver with prominent third eye of wisdom, holds a dish of honey, the noose and goad and encloses a pot of jewels in His trunk. His shakti is at His side, and the crescent moon adorns His crown.

---

---

---

---

---

Riding on His docile and friendly mouse, Srishti Ganapati is the lord of happy "Manifestation." This active God, of red complexion, holds His noose a goad, a perfect mango, and His tusk, representing selfless sacrifice.

---

Uddanda Ganapati is the bold "Enforcer of Dharma," the laws of being. His ten hands hold a pot of gems, a blue lily, sugar cane, a mace, lotus flower, sprig of paddy, a pomegranate, noose, garland and His broken tusk.

---

Rinamochana Ganapati is humanity's liberator from guilt and bondage. His figure of alabaster skin is apparelled in red silks. He bears a noose and a goad, His milk-white tusk and a favorite fruit, the rose apple.

---

---

Dvimukha Ganapati, called Janus by the Romans, with two divergent faces, sees in all directions. His blue-green form is dressed in red silk. He wears a bejeweled crown and holds a noose, goad, His tusk and a pot of gems.

---

Trimukha Ganapati, the contemplative "three-faced" Lord of red hue, sits on a golden lotus, telling His beads, holding a noose, goad and vessel of nectar. He gestures protection with a right hand and blessings with a left.

---

---

---

---
NARI DADLANI
(Nick)
Pune
---
__._,_.___
KERALITES - A moderated eGroup exclusively for Keralites...
To subscribe send a mail to Keralites-subscribe@yahoogroups.com.
Send your posts to Keralites@yahoogroups.com.
Send your suggestions to Keralites-owner@yahoogroups.com.

To unsubscribe send a mail to Keralites-unsubscribe@yahoogroups.com.

Homepage: www.keralites.net

.
__,_._,___