Bylahalli Janardan 81 year old completes Skyscraper Dash - Running a flight of 1,250 stairs over 52 floors is not an ordinary task in 15 minutes :- who reached the top most floor of the Kohinoor Square tower in Dadar on Sunday because he was the oldest one to take part in the Mumbai leg of the Skyscraper Dash.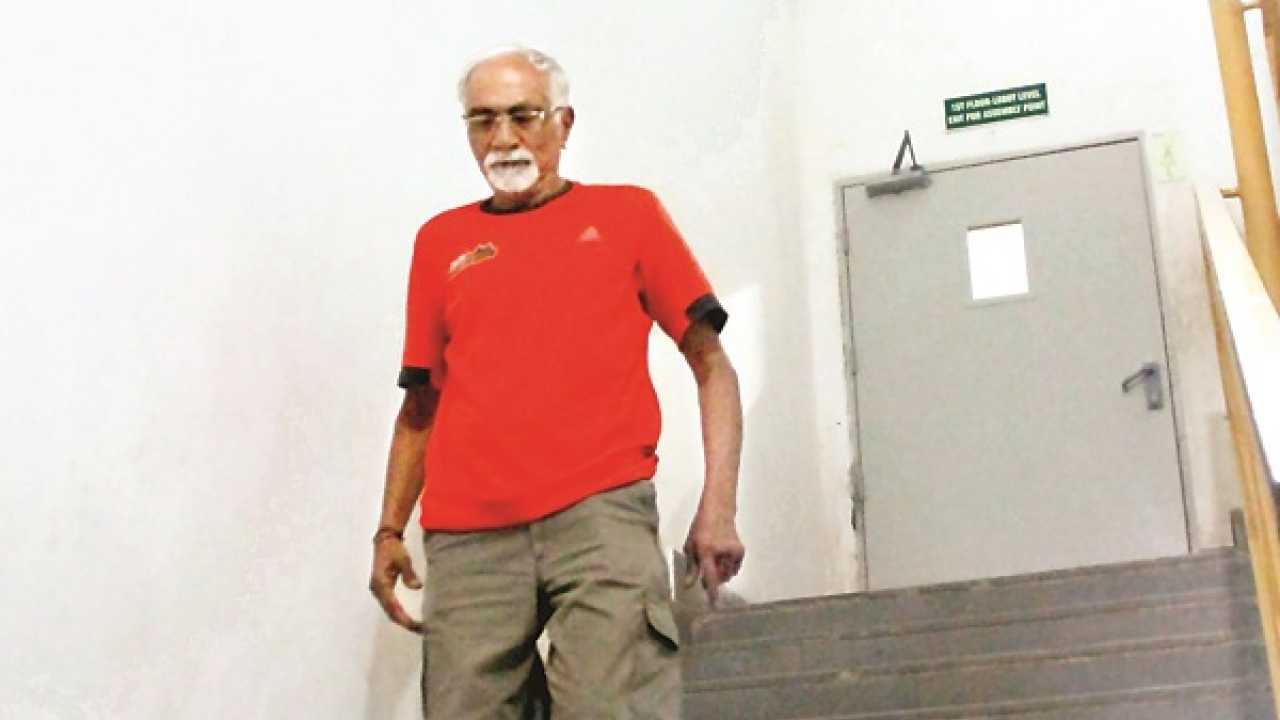 Janardan's first attempt at cycling was to make himself and everyone believe that nothing was wrong with his health. After being diagnosed with epilepsy, the retired Railway officer was prescribed medication and bed rest. "I knew medicines alone are not enough. I had to be active. I used to wake up early in the morning and step out when everyone else was sleeping," says Janardan who took cycling in 1997 after his retirement in 1991.
As far as diet and health is concerned, water is the best medicine for Janardan. "I start my day with a glass of water. I drink at least 5-6 litres of water every day. I need to keep myself hydrated as much as possible.. Another thing which improves my energy is dates. It is something that I munch on before races. I avoid spicy food. Even normal dal-chawal can be delicious, so is coffee without sugar," says the pure vegetarian, who stays away from fried food.
"I have no heart or knee problem. During the race the heart and pulse rate are bound to increase but not to alarming level. I would have stopped otherwise, but running makes me feel more energetic," he said.
He's 81, but that hasn't stopped him from participating in full marathons, half marathons and duathlons in India and Dubai.
For Janardan, who cycles an average of 50 km a day, there are still some goals to be achieved. "3,84,400 km is the distance between the earth and the moon. I am 40,000 km short of the mark. At the rate that I am going, I will cover it soon," says Janardan who will be giving next year's Mumbai marathon a skip for the Dubai edition.
Full article in the link below 
__._,_.___
---
Posted by: Ravi Narasimhan <ravi.narasimhan.in@gmail.com>
---
KERALITES - A moderated eGroup exclusively for Keralites...
To subscribe send a mail to Keralites-subscribe@yahoogroups.com.
Send your posts to Keralites@yahoogroups.com.
Send your suggestions to Keralites-owner@yahoogroups.com.
To unsubscribe send a mail to Keralites-unsubscribe@yahoogroups.com.
Homepage:
http://www.keralites.net
.
__,_._,___