Click on the link than on the left hand side many interesting and useful topics. Website looks interesting.
The Complete Information Centre from India for Senior Citizens
The aim of this site is to provide detailed info on all aspects concerning Senior Citizens of India, so that they may lead a healthy and happy life. Planning should begin early (maybe at 40!). Old Age brings some limitations, but being positive and following some simple guidelines can make life richer not just for Seniors, but also for their  family, friends & society.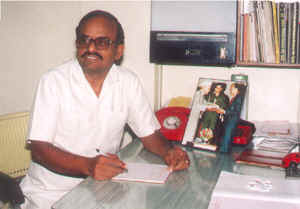 Dr. V.S Natarajan, MD, FRCP (Edin),
Retd. Prof. of Geriatric Medicine 
Govt. General Hospital, Chennai, India.
Prof V.S. Natarajan, is the inspiring force behind SeniorIndian.com.  His vast experience,  knowledge and commitment to Geriatric Medicine and to the elderly have been and will continue to be a source of immense strength to this website. He has been the Chief Consultant for the information on Geriatric health provided in SeniorIndian.com

Prof. V.S. Natarajan is the first person in India to attain accreditation as a Specialist in Geriatric medicine in UK. 
He started the Geriatric Dept. at the Govt. General Hospital, Chennai, India, on 26th April 1978. The 20 bedded ward is the first of its kind in India. 
His untiring efforts have resulted in the starting of Post Graduate degree course in Geriatrics at the Madras Medical College, Chennai, India.


Dr. Suresh Bhimsingh
, 
is the Editor and Web-master of SeniorIndian.com. This web-site is his brainchild. After finishing his M.B.B.S., he has been in private practice. He received his training in Geriatrics in the Govt.General Hospital, Chennai, under Prof. V.S. Natarajan.

Ms.Rajvi Buhari
 is a consultant on web programming and design. Her help and assistance has been invaluable.
__._,_.___
---
Posted by: Ravi Narasimhan <ravi.narasimhan.in@gmail.com>
---
---
Have you tried the highest rated email app?
With 4.5 stars in iTunes, the Yahoo Mail app is the highest rated email app on the market. What are you waiting for? Now you can access all your inboxes (Gmail, Outlook, AOL and more) in one place. Never delete an email again with 1000GB of free cloud storage.
---
KERALITES - A moderated eGroup exclusively for Keralites...
To subscribe send a mail to Keralites-subscribe@yahoogroups.com.
Send your posts to Keralites@yahoogroups.com.
Send your suggestions to Keralites-owner@yahoogroups.com.
To unsubscribe send a mail to Keralites-unsubscribe@yahoogroups.com.
Homepage:
http://www.keralites.net
.
__,_._,___