Meet Dr. VN Parthiban - The 55-Yrs Chennai Professor Who Has A Whopping 145 Academic Degrees To His Credit :-
Take a bow, everyone. Because this man could very well be our future Education Minister!
Introducing Professor VN Parthiban, a Chennai professor, who has a massive collection of degrees. And when I say massive, I mean mountain-ously huge!
For he has not one, not two, but a heap of 145 academic degrees under his belt, that he collected over a span of 30 years.
145 DEGREES!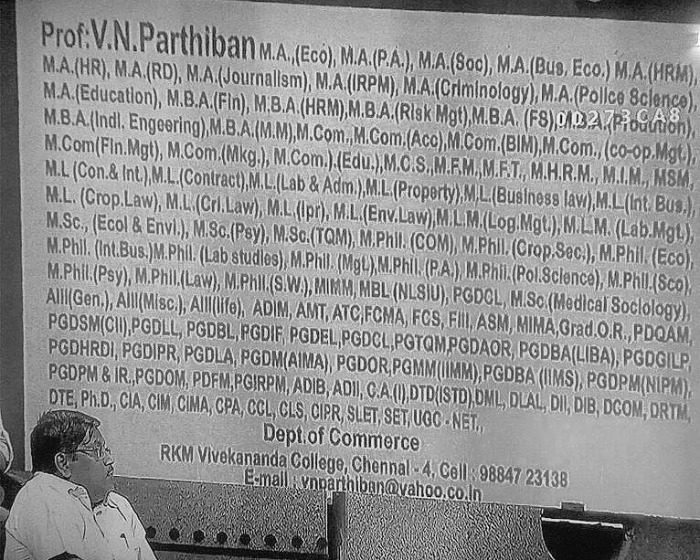 All his life, this Professor VN Parthiban has kept himself busy by applying to different courses. So much so, that now, invigilators know him by face whenever he turns up to write an exam, reports The Indian Express.
He also added that going to college didn't always come easily. And it was "failure" that prompted him to change that.
Even though the professor wants to collect more degrees, his labours have taken a toll on his memory. He finds it difficult to remember people's faces and recollect the routes to the places he visits on a daily basis.
http://www.indiatimes.com/news/india/meet-vn-parthiban-the-55-yo-chennai-professor-who-has-a-whopping-145-academic-degrees-to-his-credit-261328.html
__._,_.___
View attachments on the web
---
Posted by: Ravi Narasimhan <ravi.narasimhan.in@gmail.com>
---
---
Check out the automatic photo album with
1 photo(s)
from this topic.
---
Have you tried the highest rated email app?
With 4.5 stars in iTunes, the Yahoo Mail app is the highest rated email app on the market. What are you waiting for? Now you can access all your inboxes (Gmail, Outlook, AOL and more) in one place. Never delete an email again with 1000GB of free cloud storage.
---
KERALITES - A moderated eGroup exclusively for Keralites...
To subscribe send a mail to Keralites-subscribe@yahoogroups.com.
Send your posts to Keralites@yahoogroups.com.
Send your suggestions to Keralites-owner@yahoogroups.com.
To unsubscribe send a mail to Keralites-unsubscribe@yahoogroups.com.
Homepage:
http://www.keralites.net
.
__,_._,___